Culebra Fly Fishing and Light Tackle
Since 1991
with Chris Goldmark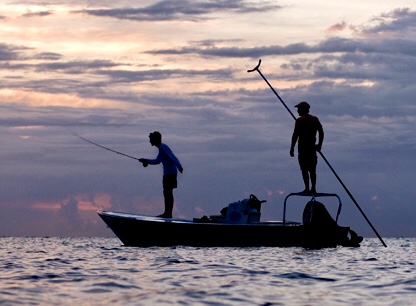 Biggest Bonefish in the Caribbean with great seasonal shots at Permit and Tarpon.
Beginners Welcome!
As of April 1 2022 I am officially retired and no longer a flats guide in Culebra. Antonio Flecha has taken over my business and will be guiding in Culebra year round. Antonio is an accomplished fly tier and flats fisherman with an extensive back ground fly fishing on the big Island and Culebra. He is known as the "permit King" and has caught more Permit on the fly than any other one that I have heard of or know personally in Puerto Rico. You can reach him to book a trip by calling 787 640 8939 or emailing him aflecha.tfly@gmail.com.
I will be on Culebra next season available for fly casting lessons but not guiding trips on the flats. If you have a boat and need a day guide for offshore or inshore conventional fishing I will be available.
I also plan on hosting trips to other Islands during the course of next season so you can check here for updates on those possibilities.
I still have the same contacts 609 827 4536 and of course goldfishpr@aol.com
My best and thanks to all my great clients through the years..stay healthy and stay tuned!!
All equipment and instruction will be provided if necessary. Total sight fishingwith a fly rod for the big 3. Or, for those who do not fly fish, light tackle for Tarpon, King mackerel, Snapper and Jacks.
Wade fishing or casting from my custom flats skiff over gin clear waters for some of the biggest Bone Fish found anywhere